About This Digital Copy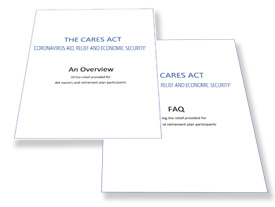 The massive $2 trillion federal stimulus package (CARES Act) includes provisions that will immediately impact millions of IRA/HSA owners and retirement plan participants. Convergent is making available CARES Act digital content for unlimited, unrestricted use to assist financial organizations in rapidly providing reliable information about these changes. Providers are free to use this copy in any way they choose (verbatim or modified).
Convergent is asking providers for a one-time fee of $295 for unlimited, unrestricted use of this digital copy (provided in Adobe PDF and Microsoft Word formats).
If you have need of this content and your organization—for whatever reason—is unable to cover the cost, please contact us directly.